These are 10 interesting facts about my second-home:)
They Nailed it here. Every one is so true. Sevilla in a nutshell :)
I was helped by:
http://www.andalucia.com/cities/seville/fascinatingfacts.htm
NUMBER 1:
SEVILLANO PRIDE AND PREJUDICE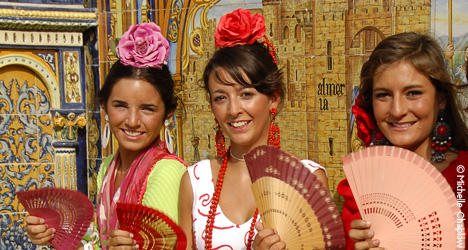 The atmosphere in Sevilla reaches fever pitch as Spring arrives.
Sevillanos are very well-known, throughout Spain and the wider world, for their fierce pride in their city.
They are, first and foremost, from Sevilla; secondly, from Andalucia; and a distant third, from Spain. Goings on in Madrid are of little interest to a Sevillano, while Barcelona may as well be in another country. For them, life revolves around tapas, bullfighting, Semana Santa and Feria (I promise you blog entries to come). In the summer, there´s the beach - in Cadiz or Huelva regions and all winter long, they discuss and plan their Feria outfit endlessly - color, cut, hem length and accessories, with the atmosphere reaching fever pitch as Spring arrives and the whirlwind of Sevilla´s annual social events season gets under way.
Sevillanos see no need to venture beyond their Sevilla, where things stay the same year after year, and change is not generally welcomed. Visitors to Sevilla will find this attitude both endearing and exasperating, but always intriguing.
NUMBER 2:
SEVIL
La ON THE SILVER SCREEN
Sevilla is beloved of movie directors for its range of well-preserved buildings from every era and style, from medieval to regionalist.
Parque Maria Luisa

´s Expo 1929 buildings are popular spots: Plaza de España, with its bizarre architectural hotchpotch of sweeping circular façade, neo-Moorish arches and Venetian bridges, was planet Naboo´s Theed Palace in Star Wars Episode II: Attack of the Clones. In the classic Lawrence of Arabia, its Palacio Español doubled as the Cairo Officers´ Club, while the park´s Plaza de las Americas was Jerusalem, and the nearby Casino was Damascus Town Hall.
Casa de Pilatos was used in the crusades movie Kingdom of Heaven, starring Orlando Bloom, as well as in 1492: Conquest of Paradise, about Christopher Columbus (see the Cathedral-Columbus Controversy, below). Some Lawrence scenes were also filmed here, while the Alcazar appeared as the court of the King of Jerusalem in Kingdom.
NUMBER 3:
NOBODY EXPECTS THE SPANISH INQUISITION IN SEVILLa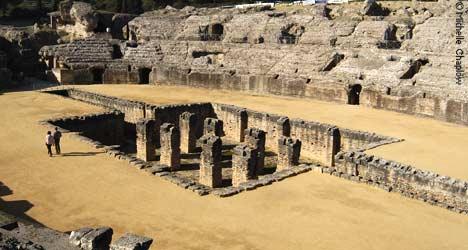 Italica was the first Roman city in Spain
This dark period in Catholicism´s history is still endlessly, if morbidly, fascinating, and it is rumoured that a museum on the Spanish church´s merciless 300-year purge of ´heretics´ is being planned in Sevilla.
The Spanish Inquisition was founded in Sevilla in 1481, and was based at Castillo de San Jorge, just over the Triana bridge by the market. Trials were held in Plaza San Francisco behind the modern ayuntamiento building (town hall) - the first ever auto da fe (act of faith) took place in Sevilla. Then, the poor souls were taken to the Prado de San Sebastian and burned alive on a quemadero (burning platform, ironically designed by a Jewish architect, later a victim himself), or shown the small mercy of being garrotted first if they repented. Above all, the Jewish population, which lived in Barrio Santa Cruz, was targeted, and their synagogues destroyed.
No fewer than three Roman emperors were born just outside Sevilla. The Romans first arrived in Spain in 206BC, during a war against the Carthaginians, and stayed for 700 years battling the fierce Iberian tribes. Baetica, the name for roughly the same area as Andalucia, became one of Rome´s wealthiest provinces. Founded by General Scipio Africanus to house wounded soldiers after a battle nearby, Italica, in the modern-day town of Santiponce (8km from Sevilla), was the first Roman city in Spain and grew to be the third-largest in the Empire, with a population of almost half a million.
It was here that three Roman rulers were born: in the second century, Trajan, and his adopted son and successor Hadrian (who built the famous wall in northern England), while a less well-known son is Theodosius, who ruled in the fourth century, in the dying days of the Roman Empire.
NUMBER 5:
THE CATHEDRAL-COLUMBUS CONTROVERSY
The remains of Columbus in the cathedral of Sevilla.
One of the most controversial of Seville´s many claims is that Cristobal Colón (Christopher Columbus) is buried here, in Sevilla´s mighty Gothic cathedral, variously described as either the third, second or biggest cathedral in the world (the other contenders being St Peter´s in Rome, and St Paul´s in London), depending on who you talk to.
The story goes that after Columbus died in 1506, his remains were buried first in Valladolid, then taken to Monasterio La Cartuja in Sevilla; then to the Dominican Republic, and finally Havana, from where they were returned after Cuban independence in 1898. But others claim that the true remains are still in the Dominican Republic, and that his son Diego´s remains were mistakenly taken back to Sevilla instead of Christopher´s. In 2006 DNA tests verified that those in Sevilla cathedral were indeed Columbus senior´s, although who´s to say that other remains are not elsewhere?
NUMBE
R 6:
THE SIX BRIDGES OF SEVILLa´S EXPO
The 1992 Expo put Sevilla on the map. Andalucia had become poor and backward during the Franco era, and an injection of cash for new roads, a high-speed rail (AVE) linking Sevilla to Madrid and a new airport transformed the city. Chief among the new plans were road, rail and foot bridges over the river Guadalquivir, linking the main part of Sevilla to the largely undeveloped island of La Cartuja, where the six-month Expo was to be based. No less than five bridges were built in Sevilla, the most famous of which are the vast Quinto Centenario, an infamous accident hotspot, and the beautiful, soaring Barqueta and Alamillo bridges. Designed by world-famous architect Santiago Calatrava, the spectacular 250-metre high Alamillo has a single arm to bear its entire weight. Calatrava´s original idea, a pair of bridges on either side of La Cartuja island, was vetoed by Sevilla officials on financial grounds. The Alamillo is probably Sevilla´s most striking and successful legacy from Expo 92.
NUMBER 7:
ORANGES AND LEMONS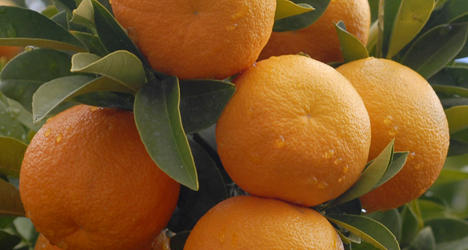 The finest and most highly prized marmalade is made from the Sevilla orange.
There´s a saying that Sevillanos are so astonished the British actually want to use their bitter oranges to make marmalade, that they reckon the pith is secretly used to make gunpowder. If you have ever made the mistake of biting into one of the oranges from Sevilla´s tens of thousands of trees when visiting, you will understand why. They are not ´table´ oranges, designed for eating. In any case, Sevilla orange marmalade is considered the finest type in Britain and beyond, even if Sevillanos don´t appreciate it.
Sevilla´s orange trees are as much an integral part of the landscape as the Gothic archways of its churches, and the fans and Sevillana dresses in its shop windows. The oranges themselves appear in December and January, and are followed by the sweet-scented white blossom (its essence, neroli, used in perfumes such as Agua de Sevilla, has anti-depressant properties) in March and April, filling Sevilla with an improbably fragrant and incredibly romantic spring atmosphere.
NUMBER 8:
TWO FACES OF SEVILLa
Believe. in. them.
Sevilla is a city of dualities. If you´re a football fan, as many Sevillanos are, you´re either a betico or a sevillista, supporting Real Betis Balompie (green and white strip) or Sevilla Futbol Club (red and white). The rivalry is legendary since both clubs were founded in the early 20th century, Sevilla in 1905 and then two years later Betis. If you are visiting Sevilla on a Sunday when there´s a derby match, be prepared for horns honking continuously all night.
Semana Santa, presents another test of royalty - is your favourite virgin La Esperanza de Triana, or La Esperanza de Macarena? Every taxi, bar, hotel and shop in Sevilla displays pictures of one or the other, and visitors will be amazed by how ubiquitous their sad faces and golden halos are.
NUMBER 9:
ANYONE FOR TAPAS?
When you visit Sevilla, you will undoubtedly go out for tapas. These small, tasty dishes, now found all over the world, originated in Sevilla. As with most traditional and much-loved activities, theories abound on the word´s origin- some say it started off as a slice of ham or bread, used to cover a wine glass as a lid (tapa), to stop dust or flies getting in; others, that since people often drink standing up, they had to put their plates on top of their glasses Whatever the truth, tapas are a way of life here - you arrive at a tapas bar, order some dishes to share, eat, drink, talk, and then go on to the next place. The activity even has its own vocabulary: tapear is to go out for tapas, tapeo is the activity itself, while a tapeador is someone who eats tapas. Typical local tapas in Sevilla include spinach and chickpeas ( SOOOOOO GOOD) , baby squid and Iberian ham (yaa ham ya)
NUMBER 10:
SEVILLa´S SIGN OF THE TIMES
No8do
Visitors to Sevilla will notice a symbol on many signs around the city, from taxis and buses to sewer covers, consisting of the letters ´NO8DO´. This is the city´s logo, and legend says that it originates from the 13th-century coat of arms awarded to Sevilla by King Alfonso X the Wise. He bestowed it in gratitude for Sevilla´s support in his battles against his son, Sancho IV of Castile, who wanted to usurp his father´s throne during the Reconquest. Between the ´NO and ´DO´ is an 8-shaped bundle of wool (madeja in Spanish). Add the three together, speaking in Sevilla´s fast, elliptical accent and you have ´no-madeja-do´, more correctly, ´no me ha dejado´ which means ´it (the city) has not abandoned me´. The motto was his reward to the people of Sevilla for their loyalty.
I love the people, the food, the culture. I just LOVE Sevilla, Andalucia, Spain :)